For as long as we have been experimenting with our hair and creating new styles, women have wanted to know which hairstyles suit them and which don't and tend to stick to the same one or two every day. However, for their big day they usually like to experiment with their look in order to make their wedding day hairstyle an enchanting one. We know that every girl wants to look like a princess on her wedding day, so whether you're looking for wedding hairstyles for short hair, long hair or somewhere in between, here we have put together for you some elegant and adventurous hairstyles that will make your locks look like a million bucks!
Classic Wedding hairstyles
The most in vogue wedding hairstyle nowadays is the old classic look. Elegant and simple wedding hairstyles will bring the focus to your face, particularly if you leave bangs or curls dropping down to frame the face` and features. Another great element of these classic styles is that the hair is pulled away from your face, allowing for a neat and tidy, perfect appearance making it one of the great wedding hairstyles for long hair. The hair can also be parted on one side if you have a preference here. In these classic hairstyles, hair jewellery is used to enhance the hair for the special occasion.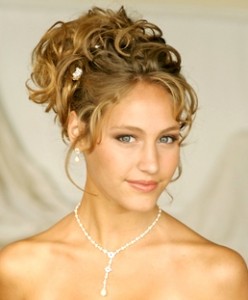 The celebrity look
The most modern trends when it comes to wedding hairstyles are very often inspired from celebrity weddings. One of the most common styles is simply flowing, long hair sporting large waves that will make any blushing bride look like a princess. To make this look even more dramatic, you can add bangs to complete your new look. A pristine white veil and sparkling tiara can work wonders with this hairstyle along with any glittery and sparkly hair grips and pins you wish to try. Once you have achieved your curls or waves when experimenting with wedding hairstyles, updos are something you may consider.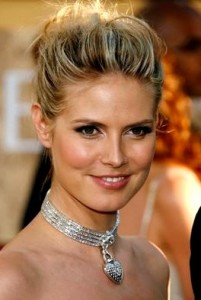 The free spirited hair-do
Partially wispy hair with bangs, complemented by a side parting presents a great picture of a confident and radiant bride and wife to be. Free flowing, textured with mousse or hair gum and large waves are the sign of a free spirited and independent woman. Easily created with large rollers or a thick curling wand, this hairstyle can also be parted in the middle if the side parting look is not the one for you. Finish the hairstyle with a tiara and veil or other hair accessories of your choice.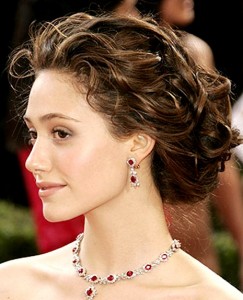 Half up Half down look
Those with medium hair length can keep it simple and straight with hair parted in the side. A half up half down wedding hairstyle can be done here, with a veil or tiara to complete the look. With this type of wedding hairstyle, if the hair is pulled back loosely towards the top with some curls left loose to soften the face, you can create a completely new variation – a whole new style! The hair is also pulled tighter on the sides with this style. A tiara would work perfectly here if this suits your own personal style and the style of your dress.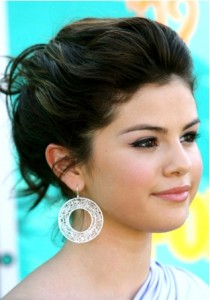 The hair is also pulled tighter on the sides. A tiara is perfect for this hairstyle.