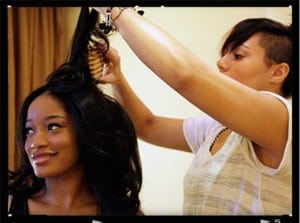 Hi there, my name is Bella Darby. I am hairstylist with more than a decade of experience, a successful business women and mom of two lovely kids. I have experience of working in more than fifty saloons. I also help to create great hairstyles for weddings, parties and other functions occasionally. I got selected three times as best hairdresser in the yearly competitions.
I feel proud on how life taught me great things and prepare me to face the critical time. Few years later I completed my college I got married with my high school sweetie. Later, I went through a tough time in my life. I was homeless and bankrupt since my husband loss his job in financial crisis. Hence, I tried to get a job to support my family. After few weeks of job hunting I get a chance to work in saloon. I have learned great hairstyles while working in saloon. I started part time hairstylist business once I got the good experience in my day job. Now that I am pretty much stable and support my family, I have started my own business of saloons.
I have seen the struggle behind getting that best hairstyles and healthy hair. Hence, it has planted an idea in my mind to provide solutions via my site & books. I am pretty sure that my books are my best work reflection and knowledge which can help to achieve a needy a great hairstyle and healthy hair.