The broad sweep
Chignons and buns, twists and knots – updos cover all of it. Although updos are considered to give natural hair wedding hairstyles a formal and sophisticated look, they can also be made into very attractive and exciting styles when you create variations of them. Bangs and buns are the famous siblings of the updo family and remain a popular choice the world over. However, you can also try semi loosened styling at the top or attracting the eye of your guests (and groom of course!) with a large adornment bang in the middle above your neck. French twists with loose up-swept styles are also very popular, lending a sleek and stylish finish to the hairstyle and go well for those with straight hair.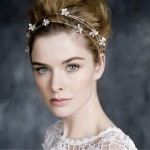 The 'neither up nor down' look
This look is suitable for those people that are not used to having their hair down a lot but want to achieve this type of style for their special day. This style helps to keep the strands of hair out of your face, yet presents its full glow for all of your photographs. The natural feel emanates from its flow when it's allowed to fall down onto your back. This is easier to create when tied at the back a la Nicole Kidman and works particularly well with veils and flowered accessories. This look will also go beautifully well with a dress neckline that is elaborately designed as it will allow you to flaunt those diamonds and pearls.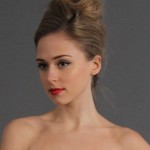 The short hair with oomph
Natural wedding hairstyles need not imply that you walk down the aisle feeling like a plain Jane. If your hair is on the shorter side, spike it up or give it that shiny, loose wavy look. There are many ways you can play around with short hair to create some fantastic wedding hairstyles. You could try spicing it up by adding some volume or ringing in those curls with rollers or a curling wand. Hair extensions can also help you add volume and length to the hair and are available in all colors and textures from a great many retailers, online and locally. A little bit of drama can be added with a glamorous side parting to the hair. The key to any great wedding hairstyle is to make it look romantic and as though it was easy to choose and create for the day.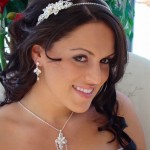 Minimal make up is also a key to enhance the look lent by natural wedding hairstyles and you should talk with both your make up artist and hair stylist together, making sure that they are able to work in sync. If you head to our website, you will find a long list of wedding hairstyles for natural hair, with in depth, step-by-step tutorials to help you achieve the perfect look for your big day. We have a wide variety of these tutorials available, no matter what your hair type – we have rare natural wedding hairstyles for black women, Indian wedding hairstyles and common western wedding hairstyles – we have it all!