The following style will definitely wow the guests at your wedding reception. If you want a new look that is traditionally bridal, looks as though you have spent hours in a salon, but is actually relatively quick and easy to do yourself at home, this is the look for you.
Follow these simple steps and achieve a true fairy-tale wedding hair style with no fuss and no bill! This one is for those with curly hair; however you don't need to have natural curls to make it work.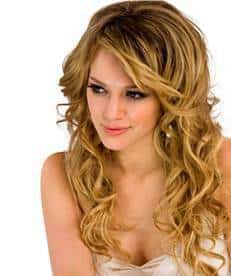 Start this style with hair that has been freshly washed and dried thoroughly. Brush it through well and ensure you remove any knots and tangles. If your hair becomes frizzy once dried, add a little shine serum to it to smooth it out.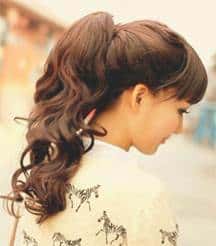 2. Now, place the hair into a high ponytail, leaving a few pieces dangling free that will later be used to frame the face. If you have a fringe, leave this free as you can style this is the usual way at the end.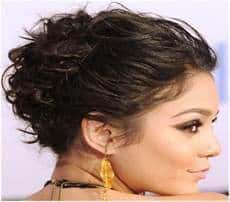 3. The hair that is dangling out of the ponytail is going to be your main focus now. Take small pieces at a time, and clip them all over the hair, around two inches away from the base of the bobble. As you move through the hair, allow the pieces to overlap each other to create a "messy" bun.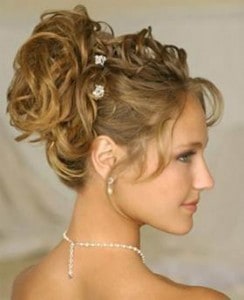 4. Now that the main part of the look is complete, take any small strands of hair that are hanging loose (aside from a couple to frame the face) and pin them back to the top of the head, near the top of the new bun. Add in any accessories you like to finish the style off. Pearl and diamante clips work well, and a tiara always sits nicely with this style. This part is entirely up to you, and is your way of incorporating your own look into the style.