Wedding hairstyles half up half down can be easily personalized to suit your own individual tastes for your big day. One can easily draw the hair half up into a vintage, retro wedding hairstyle. Styling your hair into one of the many gorgeous half up half down wedding hairstyles ensures that the hair is kept away from your face and pulled as high up as you like. You can also add as much or as little volume to the top as you prefer.
Wedding hairstyles for long hair, half up can really help to enhance your looks and project a particularly feminine appearance allowing you to easily pull off a romantic and relaxed look. Half up wedding hairstyles are also amongst the easiest to create without the need for any expert help. Therefore, it is a great option for bridesmaids and brides on a budget too!
Medieval braids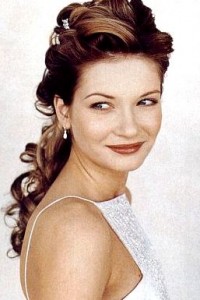 This cute and friendly wedding hairstyle is sure to warm the hearts of the people gathered at your wedding party. Leave the bottom section of the hair loose while braiding two French plaits on either side of your head. Then, simply twist the braids together and form individual rounds at the centre of the head so that the braids are left sitting next to each other at the back. This style offers a clean and romantic half up wedding hairstyle look which will stay securely fastened for the day and is non fussy. A large veil would go perfectly with this hair do, along with a tiara if you would prefer.
Romancing the curls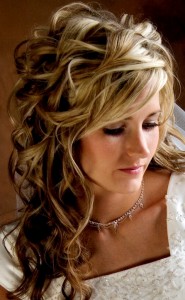 Curled half up half down hairstyles can help to add volume to the hair and a romantic look to the overall appearance of the bride on her special day. A great trick with this style is to use curling irons or rollers of a variety of sizes. This helps to mold a variety of big and small curls, giving a more relaxed and much less tailored appearance. This will provide a naturally styled look as well as add interest and texture to the hairstyle.
To give your curls more definition you can twist some of them over your fingers with a little texture gum or hair mousse. Carefully pull back and set the curls at a height judged best by you. Allow the curls to flow and drape down over the neck.
Half curled chignon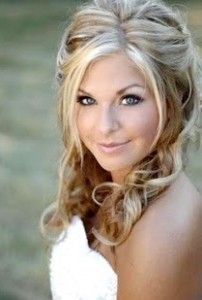 Just imagine a low bun that sits pretty at the base of your head, right at the nape of the neck. A great variation of this classic style is a half curled and much looser chignon. It will last a long time, remaining secure throughout the day and night and personifies the romantic environment of a wedding. Definitely one to try out for your wedding day!
For more great wedding hairstyles, half up half down and otherwise, head over to our website where we have a great many tutorials with photographs that will help you to create a whole new look for your special day.