Hair that sparkles and shines, curls that flow elegantly onto the sides and locks that sway to the breeze are what dream hairstyles are made of. And your wedding deserves nothing less. You must have seen great wedding hairstyles in movies, television, magazines and real life. Now its times to recreate those looks with some sound advice and tips from professionals.
Let's start the night before the wedding
1. Remember to wash the hair on the night before your big day. This allows natural oils to build up. This also helps the curls to hold better. You can also wash your hair during the afternoon. This ensures that your hair loses its softness and is ready for styling. Try this if your hair does not hold curls well. Your hair must be absolutely dry when you start with your wedding hairdo.
2. Curl the hair by sections. Start at the bottom of your neck. Pin up all the hair but remember to leave a section at the base of your head.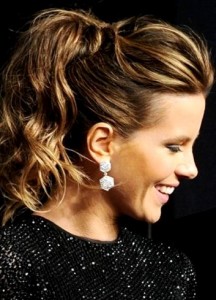 3. Use a medium hold spray before starting to curl up the next layer. You can achieve great and natural looking curls by giving the curling iron a miss and opting for pin curls.
4. When hair is dry, gently unpin and lower each curl and spray the medium hold hair spray. For half updo or updo wedding hairstyles tease hair near the roots. Hold sections of hair near the crown erect and tease the hair at three inches up its length. Again use the medium hold spray. While pulling back the hair, smoothen it gently with a paddle brush or your fingers.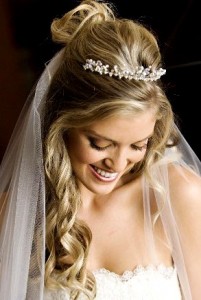 Then mould the hair into one of the many cherished wedding hairstyles such as half updo, French twist or a glamorous ponytail. Finish the look with a good dash of extra hold spray. Your hair is now ready for the wedding, are you?