Indian wedding hairstyles for medium length hair are well known for their grandeur and beautifully dressed people. The bride stands out for her beautifully draped sari, glittering jewelery and stunning hairstyle. Indian women traditionally allow their hair to grow very long.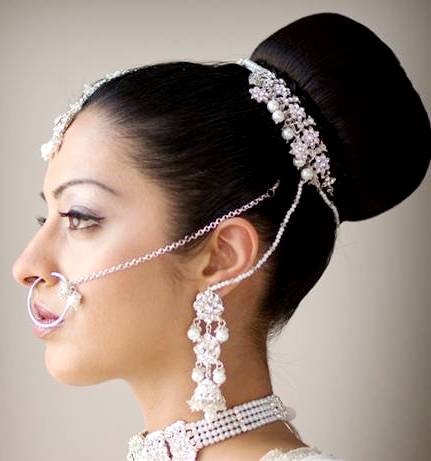 However, don't worry if you haven't got long locks as having medium length hair can also be perfect for achieving any of the beautiful Indian wedding hairstyles for medium hair here. We have put together 5 stunning yet easy hairstyles for medium length hair so that you can choose the one that suits you the best.
Traditional Braid from South India
This style requires that you part the hair at the center of the head and pull it back away from the face. Braid the hair and place flowers along and in-between the braid. Embellishments, bead work and gold jewelery can work very well with this medium hair length hairstyle.
Ringlets
Ringlets are a very popular choice when it comes to Indian wedding hairstyles. They are also easily achieved with medium length hair. For this hairstyle you need to separate your hair into small sections with a bobble or hair clip. Curl these sections and make sure that the ringlets are wound tight. Use plenty of hair spray or mousse to secure them in place once done. Flowers and other accessories can work well with this style when it is complete.
Side Bun
Creating a bun on the side of the head, rather than at the back, is a good twist on the popular, more formal Indian hairstyle. Whilst it may not be right for everyone, the side bun makes for a gorgeous wedding hairstyle. A low and puffy bun with various hair adornments such as diamantes and gems is a common favorite among Indian brides with medium length hair.
A Differential Updo
One of the most important aspects of any Indian wedding hairstyle is sure to ensure you and your hair are the center of attention. This is one of the many updo hairstyles for medium length hair and in this hairstyle, the hair is tightly pulled back near the nape of the neck and is twisted upwards. The hair that emerges from the hair twist is then curled and pinned. Decorative pins and jewels are great accessories to use with this particular hairstyle.
The Indian Bun
The traditional Indian bun is a large bun, twisted round and tightly gathered at the back of the head. The style can be decorated in an elaborate manner using beads, jewels and flowers among others, or kept very elegant and simple with just one clip.
Any one of the above hairstyles would look beautiful for a bride on the big day. However, make sure to try them out one by one in order to select the very best one. Remember, don't let the length of your hair worry you too much when it comes to wedding hairstyles. Indian wedding hairstyles for medium length hair can really work!