Hair is without a doubt the most important feature of your body that can make all the difference no wonder then that it is referred to as the crowning glory! Perfect hair can make for a perfect wedding and the photos will never look better. If you are comfortable with planning and styling your own hair then we have some great tips for you.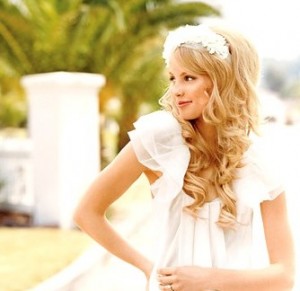 Researching wedding hairstyles that are flattering and suit you is a must. You need to do your homework before deciding on your hair-do. You can start your search for the perfect hairstyle as early as 3 to 4 months before the wedding. Websites, magazines and newspapers are great resources for that elusive hairstyle you have been looking for.
Look for models sporting wedding hairstyles that have similar face structure as yours. Keep a file or folder for gathering print outs and cut outs for your selection. Another great tip is to buy accessories for your hair that will compliment your headpiece and hairstyle. These can be neat headbands or jewel pins that go effortlessly with loose curls if you decide to let down your hair.
A silken flower, broach or tiara will fit seamlessly into a pretty updo. If you want to go natural and opt for beautiful real flowers share your views with a florist. The florist can help you with flower buds, early on the wedding day. Ideal tools for replicating one of those beautiful wedding hairstyles include bobby pins, teasing comb or a fine toothed comb, medium hold and super hold hair-spray cans, picture of your dream hairstyle and other hair accessories.
Next important tip is to practice your wedding hairstyle before the big day of your life. Note the things that don't work and work for your overall look. Remember practice makes perfect.