A woman's wedding day is quite often described as the single most important day of her life. It is the day that an unbreakable bond is created between two people. For this exceptional occasion, all women long to create a look of beauty they have never before had and the overall beauty of the bride is a very important and often commented upon aspect of the day. If you are planning to marry at the beach, an enhanced pressure on you to find a controlled yet sleek and sexy hairstyle becomes inevitable.
Wedding beach hairstyles are very distinctive compared to other types of wedding hairstyles and certain things often thought about here are not considered when it comes to a traditional venue wedding. The choice of beach wedding is of course a personal one and what each individual woman needs and wants is the right choice for her. Therefore, preparation for the wedding in a natural atmosphere, accepting nature's changing behavior is an important aspect when creating your beach wedding hairstyle.
Constant wind flow on the beach is a challenge to the many brides choosing this type of wedding trying to keep their hairstyle in place throughout the day. Hairstyles for beach wedding occasions should of course, remain intact for the entire day so plenty of hair spray is often required!
Hair stylists and women doing their own style for their big day always look for ways to keep the tresses firmly bonded when it is for an outdoor occasion, especially the beach. Aside from hair spray, hair pins are often used for taking care of the weather problem adequately. Of course, hair bands and head bands can solve this purpose to some extent, but this accessory is mainly used for serving a different purpose and will create a completely different style overall. Veils are now more often used in weddings and in a manageable situation, one can think of any type of veil without giving it much overall importance. However when it comes to a beach wedding hairstyle, the demand for a veil can be a definite stress for the bride due to the wind.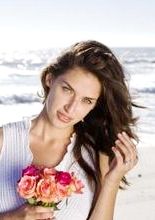 Using a tiara along with the veil is a popular choice as together they create a beautiful overall outlook of the bride, very much appropriate to a beach wedding. The most important thing to a bride when it comes to a wedding hairstyle is their desire for different looks such as romantic, classic, casual, etc. The neckline is also an important factor that has to be taken into consideration when thinking of unique hairstyles for a beach wedding. The brides beauty on the day is widely due to the hairstyle she chooses, and is also responsible for enhancing the mood of onlookers. Therefore, this point has to be given extra special attention when it comes to beach wedding hairstyles for long hair, beach wedding hairstyles for medium length hair and otherwise, due to all of the factors mentioned above.